Whitepaper Highlights: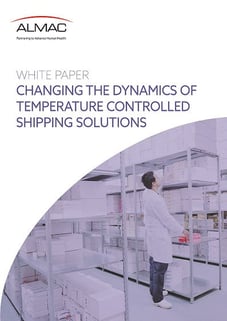 With a continuous emphasis on providing innovative solutions to customers, Almac has changed the landscape of cold chain and controlled room temperature clinical trial distribution by developing a more protected, optimised and dynamic shipping solution for its customers, with less excursions, less freight costs and less pressure on your clinical trial.
This whitepaper discusses:
The growing challenges of today's clinical trial industry
The trends impacting trial logistic costs
The benefits of phase change technology for the industry
The barriers to adoption
Almac's first-to-market, full service shipping solution, the Almac Pod™
By submitting your information you acknowledge that you have read the
privacy statement
and you consent to our processing the data in accordance with that privacy statement. We may, from time to time, send you material relevant to your interests. If you change your mind at any time about wishing to receive material from us, you can send an email to

info@almacgroup.com
. Every email we send you will also include an unsubscribe link so you can unsubscribe from our marketing list.